Here's the Facebook Live Video (or Frillici Friday Video...!) I did today...
Get your name entered into the drawing to win the.....
HEART EPOXY DROPLETS this week!!
Heart Epoxy Droplets 148583
Here's how.....
1 entry for commenting on the Facebook Live video (anything at all!) and 3 entries if you share the video (you must include a comment with your share, too!!). Comments and shares on Youtube count, too!!
AND NOW.... SIGN UP FOR MY EMAIL LIST FOR A CHANCE TO WIN as well.
You get 3 entries into the drawing for signing up for my email list!!
You also receive a free tutorial valued at $15 when you sign up for my email list!!
Drawing will happen on our next Facebook Live at 11:30am EST on Friday, February 1.
This week, I showed you....... HOW TO MAKE A CUTE TREAT BOX using the Envelope Punch Board and the Part of My Story Sale-a-Bration Stamp Set, PLUS….. I demo'd a card featuring THE SWEETEST THING STAMP SET, JAR OF SWEETS FRAMELITS & HOW SWEET IT IS DESIGNER SERIES PAPER (DSP)
and gave you lots of other great info, too)!!!!
plus... we drew for the winners of the NEEDLEPOINT NOOK MINI BUTTONS (congratulations to Tammy T)!!!
Wow!!! What a great day!!!

!
Here are the projects I demo'd....
This first card features the.......
Sweetest Thing Stamp Set 148575
Jar of Sweets Framelits 148524
Rectangle Stitched Framelits 148551
Layering Oval Framelits 141706
Glitter Enamel Dots 146934
How Sweet It Is Designer Series Paper 148568
Whisper White Sheer Ribbon 144172
Coastal Cabana Ink Pad 147097
Melon Mambo Ink Pad 147051
Melon Mambo Card Stock 115320
Whisper White Card Stock 100730
card base = 4 1/4" x 11", score at 5 1/2"
Here's a peak at our next project...


This fun treat box features the......


Part of My Story (Sale-a-Bration) Stamp Set 149719
Butterfly Gala Stamp Set 148580
Envelope Punch Board 133774
Gingham Gala Designer Series Paper 148554
Gingham Gala Adhesive-backed Sequins 148561
Stitched Label Framelits 146828
Layering Circle Framelits 141705
Butterfly Duet Punch 148523
Daffodil Delight Organdy (Sale-a-Bration) Ribbon 149623
Daffodil Delight Ink Pad 147094
Highland Heather Ink Pad 147103
Daffodil Delight Card Stock 119683
Highland Heather Card Stock 146986
Whisper White Card Stock 100730
box card stock = 6 1/4" x 6 1/4", score at 2 5/8" & 3 5/8" on envelope punch board
You can learn more about all of these projects (and the products used to make them, PLUS..... LOTS of other good stuff, too!!) on the Facebook Live video here.....
direct link: https://www.youtube.com/watch?v=Eg4oTgEWFAY&t=11s
REMEMBER.... if you put in an order ($30 minimum) by midnight on Wednesday, January 30,
I
'll send you the projects I demo'd in the video for FREE!!
And.... your name is entered into the drawing to win the VIBRANT VASES STAMP SET
!!!!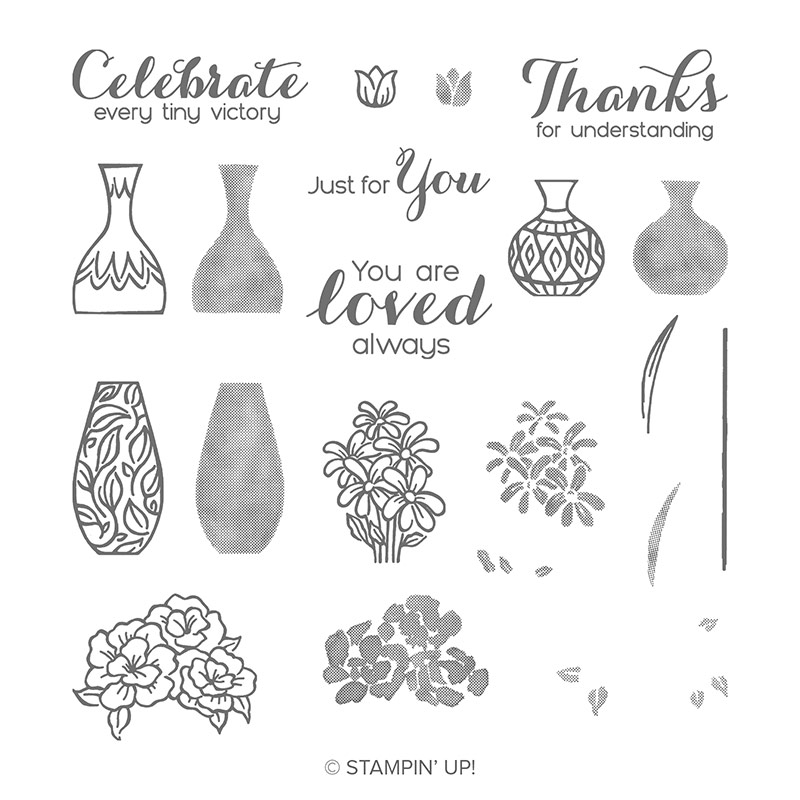 Vibrant Vases Stamp Set 148656
Bump your order up to $50, and you'll also a free embellishment in your thank you package, too!!
But, your order MUST be in by Wednesday, January 30 at midnight!!
You must use Host Code CJFGUVAT
That's how I'll know you ordered!!
I hope you were Inkspired today!!